Executive Summary
Favorable geography, a diverse economy, and an expansive public port system have enabled Washington state's economy to reap the benefits of international trade helping the state's businesses and farmers to thrive in the global marketplace. Indeed, trade supports roughly one in five jobs in Washington. Exports of Washington-made goods and services directly support nearly a quarter of a million jobs across a diverse range of economic sectors including agricultural products, manufacturing, and professional services. These factors have made the state an attractive destination for foreign investment and U.S.-based activities of foreign businesses. As a result, Washington's economy is globally prominent, innovation-centric, and well-positioned to benefit from globalization.
Trade supports roughly one in five jobs in Washington
However, over the past five years, three main factors have hampered international trade growth in Washington and taken a toll on businesses: (1) U.S. trade tensions with China; (2) a retreat from globalization resulting in a protectionist trade policy; and (3) disruptions stemming from the COVID-19 pandemic.
Washington state can overcome these challenges by pursuing smart public policies. To create a more favorable environment for international trade, public policy and private sector priorities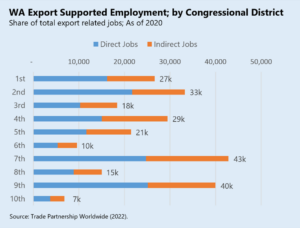 should be centered on three foundational pillars: (1) leverage the state's strengths; (2) address current trade challenges and explore new market opportunities; and (3) position our economy to turn new challenges into opportunities.
Unprecedented and unpredictable forces have altered what was once a steady upward trajectory for Washington's trade economy. While recent developments, like the Infrastructure Investment and Jobs Act, have the potential to create a more favorable environment for future trade growth, smart policies and incentives are needed to achieve Washington's full potential. Fortunately, the state has the tools and natural advantages to be the epicenter of a West Coast innovation economy. Accelerating economic and job growth with increased trade can improve the well-being of all Washingtonians in the decade ahead.